Buffalo Bill's Wild West Dinner Show Spectacular is located in Disney Village at Disneyland Paris Resort and has been running since 1992. The dinner show occurs twice daily - 6:30 PM and 9:30 PM (except Wednesdays and Thursdays). The show is included in the full or half board Premium Meal Plan (second category seating only). I had the Half Board Plus Meal Plan, so I purchased second-category seating to the dinner show separately ($66.10 USD).
After I had been assigned a section, I was given a cowboy hat, with a colored band indicating my seating section. I really wanted the yellow band because that's my favorite color, but I got red. I suppose that's more western. And I liked my cowboy hat enough to bring it with me not only from Disneyland Paris back to Genoa, but from Genoa back to the United States!
The waiting area was pretty packed. There was a band playing country tunes, and Mickey's friends came out to dance.
eating was a complicated process because there were so many people packed together. They shouted our hat band colors (in French and English), and we'd all move forward, trying to squeeze by. At one point, I realized that I was surrounded by hats with yellow bands, but a Cast Member spotted me and directed me to catch up to the other red bands.
The dinner theater set-up is similar to that of Medieval Times or the Dixie Stampede.
This is Buffalo Bill -
He was the English narrator of the show. There was another character who narrated in French, and they would have English/French conversations with each other, providing enough English dialogue so that I had a good idea of the context of the French dialogue. This was a common method used in shows and attractions all over Disneyland Paris so that the shows could be understood by guests who spoke either language. I'm sure that if the show was translated into either language, some of the script would be very repetitive, but it worked well for multi-lingual storytelling.
Here's "Little Miss Annie Oakley" - hardly little, but she was a talented rider for sure.
After introducing the narrators, the plot started with the Native Americans. Don't ask me to remember or spell his name -
Then the cowboys come in and take over.
And it was time for a song and dance number with Mickey and gang.
It was called, "If you're hungry and you know it." And that's when they started bringing out the meat. Also, somewhere in that first portion of the show, they poured drinks. I think the waitresses were very confused as to why I was sitting alone, as well as whether or not I was an adult, because they were serving beer and did not offer me any. Not that I'm a huge fan of beer, but I definitely would have appreciated the offer. However, it was dark, so they could been looking at size alone, and I think they thought I was the daughter of the woman sitting next to me.
It was time for the games! They had a volunteer from each section try to shoot like Annie Oakley. The child won off a "ricochet shot."
This guy was in charge of getting our section pumped up -
Then we had a race. Each team had a cowboy and a Native American, and they had to pass off the flag.
Go red team!
It was time for dessert. This proved to be another difficulty being a solo traveler who is also an adult but might look like a child size-wise in the dark. First, they brought around the kids' desserts. Then they brought around the adult desserts... and skipped me!!! THIS IS NOT OKAY! The waitress came by and asked me something in French, then I asked for English, but I still didn't understand her. It was a "do you want" question, so I just said yes, and she brought me my dessert.... apple pie and ice cream! So American.
Then they didn't offer me any coffee but did to all of the other adults. Um, hello, maybe even if I was a child, maybe I would want coffee. It's not even alcoholic - no excuse there! I was rather miffed about the service and the awkward in-between families seat I had which made me look like their kid. Unfortunately, because of the show and the haste of the waitresses, I was unable to flag them down and ask for anything, so I just had to be silently miffed.
Luckily, the show was entertaining.
The next competition was delivering a letter with the help of Mickey and gang.
We had Goofy's help - and we won!
He was really excited with two flags...
They then had audience volunteers who ended up being robbed and tied up. Such a kind way to treat the guests!
Luckily, the good guys came in to save the day!
Go 'MERICA!!!
That's what you get for volunteering, guys -
Have no fear - Buffalo Bill is here!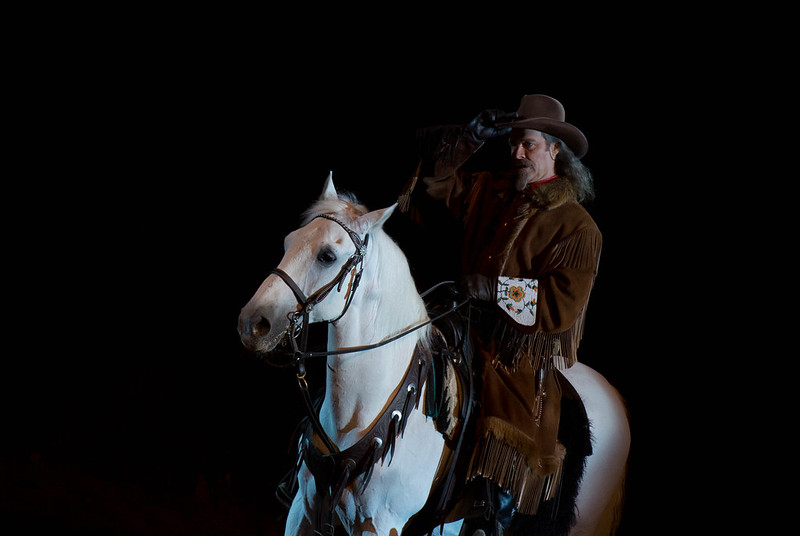 And the show concluded with Buffalo Bill and the French narrator toasting...
Where's my glass? I want to toast, too!
Cowboys and champagne.... only in France!
And the grand finale!
I enjoyed the show and was glad I went. I'm guessing they don't have a show like this at Walt Disney World because it would be competing with the Dixieland Stampede and Medieval Times... not to mention, the Wild West theme might not have such a great appeal to a largely American audience.