I really enjoy every cruise that I take and consider them an excellent vacation from "the real world." However, people often ask me to compare different cruise lines and ships, and I often find myself at a bit of a loss because I have wonderful memories from all of them. Starting with my previous
cruise on the Carnival Breeze
, I have created a rating system based on ten components of a cruise vacation which are important to me - itinerary, ship novelties, pools, activities, entertainment, dining, bars+lounges, service, design+aesthetics, and cabin. I have rated the Disney Fantasy 7-Day Western Caribbean cruise taken on May 10, 2014 on a scale of 1-10 (10 being the highest possible ranking) in all ten categories to come to an overall percentage or cruise rating.
Sometime while on the cruise, Max asked if I was going to be biased towards Disney. The honest answer is absolutely yes. I love Disney. I grew up watching Disney movies and visiting Disney Parks. I have a Disney Visa credit card, an annual pass to Walt Disney World, and a Mickey Mouse-themed bedroom. I cannot help but to be biased towards Disney because Disney, in particular, makes me happy. Sure, I am an adult with no children, but I am a Disney-loving adult.
Therefore, in attempt to find some middle ground, I think it will be of value to add Max's opinions to the ratings. Max enjoys going to Disney World (with me) and watching Disney movies (also with me), but he is not nearly as Disney-loving as I am or as I would like him to be. In fact, he is trying to get me to agree to go on a trip with him... to Universal Studios (aka The Dark Side... I have been there a few times, but not since 2007). This was also Max's third cruise, all of different cruise lines. In addition to the Disney Fantasy, Max has sailed the Norwegian Epic Western Mediterranean and the Carnival Breeze Southern Caribbean.
Also rating the cruise is my sister, Rachel. Like myself, Rachel's been on 16 cruises, but rather than the Carnival Breeze, she has sailed the Norwegian Dawn and also the Royal Caribbean Jewel of the Seas (but she's been on the Norwegian Epic once, so she has sailed one more ship than me). Rachel absolutely loves cruising, and I think that a cruise ship is always her preferred vacation destination.
So first I will list my rankings with the graphic and heading. Below each category, I will list Max and Rachel's individual scores and summaries.
Itinerary = 8/10
I actually found the itinerary very tough to rate. At first glance, this itinerary is nothing special. It's three well-traveled Caribbean ports and a private island. I was expecting very basic, bland beach days. However, we finally did something right and had the best experience we've ever had, I believe, in Cozumel. We found Falmouth to be a much nicer Jamaican port than Ocho Rios, and really enjoyed the beach we visited. And Castaway Cay is without a doubt the best private island in the cruise industry which is what really brings the rating up because if it were the exact same Western Caribbean ports but a different private island (let's say Princess Cays or Coco Cay), I would not have rated it as high.
Cozumel, Mexico:
Cozumel is a very popular cruise port. In fact, it might be the most well-traveled Western Caribbean port by the cruise industry. That being said, I've been here several times, and I've never found it to be anything special. I've done excursions offered through the cruise line which were falsely advertised with beautiful pictures. I've been shopping downtown and had drinks at Senor Frogs (at Puerta Maya cruise pier). What I had never done before was visit a private beach. After visiting Playa Mia, I must say that a private beach is well worth the money and the way to go when visiting Cozumel.
Grand Cayman:
Another well-traveled Caribbean port, but the downside is that there is no cruise pier, so passengers must tender (take a small boat) to shore. Having visited many of the tourist attractions (you have to mail a postcard from Hell), we just went to Surfside at Seven Mile Beach. We were a little disappointed to find that it did not have the same party atmosphere that we experienced a year ago on a Christmas cruise, and we believe that the mood at the beach might change depending on the time of year and/or ships in port.
Falmouth, Jamaica:
We had a great time in the port of Falmouth. We booked the Chukka Beach Express Port Adventure through Disney Cruise Line and got to experience the calm water and extremely soft sand and were never approached by pesky souvenir vendors or hair-braiding women. The shopping center by the port is also very nice and well-developed, and houses a large Jimmy Buffett Margaritaville complex.
Castaway Cay:
I am going to repeat again that Castaway Cay is the best private island in the cruising industry. Not only does Disney Cruise Line have a dock so that passengers do not have to tender (I should note that Royal Caribbean's private island, Labadee, also has a dock) and a tram which transports guests to the different beaches on the large island, but they have separate beaches for families, teens, and adults. Serenity Bay, the adult-only beach, is the quietest, most relaxing beach I've been to. Disney also offers children's programming on the island (most cruise lines have limited children's programming hours onboard the ship while at their private island) and scheduled activities for kids and families on Castaway Cay throughout the day. I cannot forget to mention Pelican Plunge, the complimentary waterslides that launch you out into the ocean. And speaking of complimentary, DCL offers free self-serve soda throughout the day on the island, and the best cookies ever made at the barbecue lunch.
Max's Rating: 10/10
I really liked this itinerary and enjoyed every port of call. My least favorite port was Grand Cayman, but it was still nice. I loved Jamaica, and it met all of my expectations for being awesome. I had a great time at Playa Mia in Cozumel, and Castaway Cay was really fun. This is definitely my favorite cruise itinerary so far (vs. Southern Caribbean and Western Mediterranean).
Rachel's Rating: 8/10
I had been to Cozumel and Costa Maya a month ago, so I'm probably being more critical because it was almost the same itinerary for me. Castaway Cay would get a 10, except the ropes course was closed, so I feel like I can only give it a 9 because I don't even know if I can do it, anymore.
Novelties "Do you have a....?" = 8.5/10
I've said before that I think the competition to have "the only ____ at sea" is becoming a little obsessive and reminds me a little of
Kristen Wiig's character, Penelope, from SNL
. "We have the first ice bar at sea." "Oh, well we are building a new ship with the first bumper cars at sea.... so I guess we're just a little bit better than you." While some of these "firsts at sea" are, in my opinion, a bit over-the-top and ridiculous, there are some which are
really
cool... like the ice bar (punny?). I judge novelties on their practicality, usefulness, and overall awesomeness factor.
The Disney Fantasy's sister ship, Disney Dream, set sail in 2011 with the first water roller coaster at sea, the
Aqua Duck
, which is also a prominent feature on the Disney Fantasy. The clear tube water coaster wraps nearly the entire top deck of the ship, beginning with a downward spiral extending over the water. It is a water coaster, rather than a water slide, because there are two uphill pieces of the slide with jets which propel the tube forward. While the first half of the ride is fast and exciting, the second half is smooth sailing. From being a water roller coaster to cantilevering off of a moving cruise ship, the Aqua Duck is truly an engineering feat. But what I found truly impressive about the Aqua Duck is how the rafts were mechanically lifted to the top of the slide (no toting your own tube nonsense) and how the tubes were sent down the slide via a conveyor belt (rather than a tube floating in water, it sits on a conveyor belt which moves forward to push the tube down the slide). While the Aqua Duck might not be the most invigorating waterslide, the first half of the loop is pretty exciting, and the second half offers great views. The only thing I didn't like about the Aqua Duck is that Disney is cruel enough to take your photo while you're wet, wearing a bathing suit, and probably screaming from fear or excitement and/or squinting to keep the water out of your eyes. I would never buy this photo, and I was quite glad that an Aqua Duck photo of me never surfaced (Rachel, Max, and Dad were less than excited to see theirs).
Disney is the only cruise line that features
first-run movies
for no additional charge on its ships. This is, of course, because Disney is an entertainment industry that owns its own movies, so getting rights to play movies as soon as they release in theaters is not an issue or, I'm guessing, a great expense. The Buena Vista Theater plays first-run movies throughout the day, and movies are played in the Walt Disney Theatre on select evenings. Disney Cruise Line also offers movie "premEARs" at sea on the same day that the movie is released on land. We were lucky to be on the sailing for the premEAR of Disney's Million Dollar Arm which is a movie that I was planning to see in theaters. Depending on what time of year you sail, there may or may not be a good selection of new releases on the ship. However, since Disney now owns Pixar, Marvel, and Lucasfilm, their collection of movies to show at sea is expanding.
Before Disney Cruise Line first set sail in 1998, Disney sought permission to shoot
fireworks at sea
(fireworks are typically viewed a distress signal). They were the only cruise line to do so until the Norwegian Breakaway set sail in May 2013 (also now on sister ship, Norwegian Getaway). Disney is still the only cruise line to have fireworks shows on all ships in the fleet (only four ships). Being spoiled by the grand fireworks shows at Disney Parks (in particular, the
New Year's Eve fireworks at Magic Kingdom
and all around the Seven Seas Lagoon), the Buccaneer Blast was a little underwhelming. But being a fireworks lover, I would say that "fireworks at sea" is a pretty cool novelty to be able to list.... and clearly Norwegian Cruise Line agrees.
My favorite novelty, though, would have to be the ship's
musical horns
. When the Disney Magic (and later Disney Wonder) set sail in 1998, rather than the standard cruise ship horn, the horn played the notes to "When You Wish Upon a Star". When the Disney Dream (and later Disney Fantasy) debuted in 2011, Disney increased their musical horn repertoire. In addition to playing "When You Wish Upon a Star," the Disney Dream and Disney Fantasy can respond, "Makes no difference who you are," as well as play several notes of "Yo Ho (A Pirate's Life for Me)," "It's a Small World," "Be Our Guest," "Hi Diddle Dee Dee (An Actor's Life for Me)," and "A Dream is a Wish." To me, the volume and sound of a ship horn really says, "I'm on a cruise." It's one of those vacation triggers that brings a smile to my face - like seeing Cinderella's Castle for the first time on a trip to Magic Kingdom or watching fireworks at the end of the day. So having musical ship horns made me incredibly happy.
The novelty attractions on this ship especially appealed to me since I am a Disney fan, and I love fireworks and waterslides. There is no novelty feature that I felt that the Disney Fantasy was missing (perhaps because novelties are all unnecessary items, anyway). As far as practicality and usefulness, I think that the Aqua Duck water coaster (or a waterslide in general) is a good thing to have on a ship and is utilized by a large percentage of the guests. First-run movies, also, are incredibly practical as an option for entertainment and a way to see a new release without going to theaters and paying for it. Fireworks also have great entertainment value, and judging by the number of people on deck for the show, this is a feature that many guests take advantage of. The only purely extravagant novelty, I believe, are the musical horns.... and who doesn't love a musical horn???
Max's Rating: 8.5/10
My favorite "novelty" was the movie at sea, but that's probably biased because I really liked the movie (Million Dollar Arm) in general. The Aqua Duck was pretty good. The musical horn was really cool. The actual firework show at sea was just okay, but having them on the cruise ship was really unique.
Rachel's Rating: 10/10
I liked the Aqua Duck. I thought it could have been a little bit faster. I don't like that they take your picture and allow other people to look at it. I liked Goofy Golf because it was a really cute putt-putt course. I enjoyed being able to watch Million Dollar Arm, but the next time they should premEAR it on a day that's not before Castaway Cay when I have to get up early in the morning. So my only complaint is that they aren't catering to my every personal need.
Pools, Hot Tubs, Waterslides = 9/10
The Disney Fantasy has several pools. On the main pool deck, there is the Mickey pool for children and the Donald pool for families. What's cool about these pools is that they can both be completely covered, expanding the deck space, by a sliding pool deck. The downside is that they are both on the small side (this is a common characteristic of cruise ship pools). There are also two splash areas - Nemo's Reef, a shaded splash area for toddlers, and Aqua Lab, a large splash area for all ages. The great thing about the main pool area is that there are many pool chairs and lounges, and for some reason, the infamous "chair hogs" did not appear to be a problem, as there were always vacant loungers somewhere at any point in the day.
There is a very large adults-only area on the pool deck. The Quiet Cove pool, though small, has a not-quite swim-up bar (bar stools are in like 4 inches of water), surrounded by shaded deck chairs. Above and forward is Satellite Falls, another adult-only area which has many sunny and shaded lounge chairs and a wading "Satellite" pool with a waterfall. If you were wondering, the adults-only concept is strictly enforced, and I know this to be true because I, myself, got carded. Also, just like the main pool deck, we never had any issue finding lounge chairs at any time in the day. While on other ships, one must rise with the sun to find a lounge chair, we were able to come to Satellite Falls at at noon and have our pick of port or starboard. This is the largest complimentary adult-only pool deck that I've seen on a cruise ship.
Quiet Cove Pool
Disney did perhaps the most brilliant thing ever and gave teenagers their own private pool deck located at Vibe on Deck 5 forward. This is the only cruise line that I know of that gives teens their own private pool. Maybe other cruise lines should follow their lead... give teens their own exclusive space, and you won't have them sitting in the floor of the elevator, singing songs. Or hiding under the stairs on the second deck at 2 o'clock in the morning. Believe it or not, that is a very popular thing for teens to do on cruise ships (strange, I know, but look for them on your next cruise, and I guarantee you will find them there), and I'm honestly not certain that it didn't happen on our cruise because I never looked under the stairs on the second deck.
Vibe Teen Club
As for water slides, wrapping the entire main pool deck is the Aqua Duck water coaster which is quite possibly the most high-tech water slide at sea. Beside the Mickey pool is the slide for children up to 14 years old. It looks like a pretty chill slide, but I was still a bit bummed that I was too old to ride it. I would have appreciated it if the ship had another slide for all ages besides the Aqua Duck, but I do understand that with the Duck circulating the main pool deck, space for another water slide is a little difficult to manage.
The one thing that the Disney Fantasy is rather short on is hot tubs. There are two large glass-bottom (you can see the life boats beneath) hot tubs in the Quiet Cove pool area, and two other large glass-bottom hot tubs on the main pool deck. Believe it or not, though, I didn't really miss them on our May sailing. It was so hot that honestly, the last thing I wanted at most times was to get in a hot tub. However, on a winter cruise, I would appreciate a hot tub with a view of the Funnel Vision... maybe on the 11th deck, overlooking the Mickey and Donald pools... though that would take away from standing room for people watching the fireworks on Pirate Night.
Max's Rating: 8.5/10
The atmosphere at the pool was nice, but the pools themselves weren't that great and were really small. The Quiet Cove Pool was a cool design, but the water temperature was hot which was one thing I didn't like. I liked the idea of the misters, but they were kind of annoying when actually in the pool. I did think it was really cool that there was a bar connected to the pool. I liked the Satellite pool, and it was refreshing to sit in. I liked the hot tubs, but I feel like there weren't enough. Like on the Carnival Breeze, I felt like there was a hot tub everywhere. One thing that was really nice was that you never had to fight for chairs and could get the nice chairs with the cushions at anytime. Not having to wake up at 8:00 in the morning to get a deck chair was really nice. And I also appreciated that the towels were self-serve, rather than having to check them out with a card like on the Breeze.
Rachel's Rating: 8/10
I just don't understand why the pools are so small. They have that big, huge pool deck, but the two pools themselves were tiny. And, you have to keep in mind that when a kid poops in one pool, they have to close it and everyone uses the other pool. Can you really fit all of the magic in one little pool? Probably not. I really like the adult pool, and I really liked Satellite Falls. I would have preferred one big pool rather than two tiny pools, but I don't know if there is some rule as to how big your pool can be on a cruise ship, because I've never actually seen a big pool on a cruise ship.
Activities (for adults) = 8/10
Take a look at the
Personal Navigators
, and you'll see that Disney Cruise Line fills the day with activities for children, teens, adults, and the entire family. What I really appreciated about DCL is that their activities are a bit more original than the typical belly flop competition on all other mass-market cruise lines. Perhaps I am just the ideal consumer, but I really liked the Disney Animation classes offered (though judging by the number of people who attended, I would say a lot of other people did, too). Disney also schedules adult activities throughout the day, such as fitness classes, trivia, and tastings. Max and I took part in a mixology class which we actually reserved in advance as a private group through our cruise roll call on Facebook (mixology classes and wine/tequila/rum/etc. tastings are scheduled throughout the cruise, and you can reserve your spot at guest services). The class was an additional fee at $15 per person, but we really enjoyed it and thought it was well worth the money, especially since we got five drinks each.
Jack Jack's Diaper Dash
What is great about Disney is that they have a huge adult-only after 9 PM area on the ship which ensures that adults-only activities remain adults-only (well, I suppose I am being a bit hypocritical, as I observed my first "Love and Marriage" game show on Royal Caribbean well before I was 18). Our adult Quest game was not taken over by children or teenagers, and they even offered a family version of Quest several times throughout the cruise, so no one was missing out. So I didn't have to observe little boys put on their mothers' bras or girls their fathers' pants as I did at
Quest on Royal Princess
. That being said, our games did tend to be less raunchy than those I have observed on other cruise lines, but I wouldn't necessarily consider that a bad thing. I was pleased with the amount and variation of activities offered for adults, as well as for families, on our Disney cruise.
Max's Rating: 8/10
I enjoyed the Quest game a lot. That was fun. Especially since we were championnnnnnns. The trivia was really hard. I almost feel like you wouldn't know those answers unless you had heard those specific questions before on at least some of them. Mixology was fun and I did enjoy that, and I thought it was very fairly priced. I did not enjoy some of the activities in the D-Lounge like Family Fusion or Mirror Mirror. The drawing was okay, but it wasn't awesome - I think I enjoy it better at Disney's Hollywood Studios. The Diaper Dash in the atrium was funny. And I know this is a Disney ship, but I didn't really understand the big deal with all of the princess gatherings. I was over it by the end of the cruise.
Rachel's Rating: 8/10
I really liked all of the adult activities. I do think that they should have an intermediate Disney trivia because they have the easy-peasy family stuff, and then the eat/breathe/sleep Disney expert trivia, but nothing for the average Disney fan. I feel I'm fairly knowledgeable about Disney, but I definitely didn't know that Mexico was the only country written out in its a small world, and I looked for it and didn't see it, so I still don't believe it.
Entertainment = 10/10
The Disney Fantasy has five stage shows which are performed in the Walt Disney Theatre - three of which are full-length productions.
A Fantasy Come True
features a family of four - a mom who needs a break from work, a teenage son that doesn't want to be there (he was my favorite), a daughter who is really excited about everything (played by a petite Asian cast member who might be more energetic than an actual child), and a nerdy dad (an actor who is probably the same age as the actor playing his teenage son) who just wants to do everything with his family... and is soon abandoned by all of them. The show functions as a sort of preview/advertisement for the ship. The mother goes to the spa, the daughter rides the Aqua Duck, the teenage son ends up having the time of his life in Vibe, and the parents party it up in the Tube. The narrative is incredibly corny. The musical numbers, however, are fabulous. They do pale in comparison to the numbers in the three main shows later in the week, but I couldn't help but be impressed by the incredibly talented cast. It is by far the most talented entertainment cast that I have ever seen for main theater shows on a cruise ship.
Disney's Aladdin - A Musical Spectacular
is quite similar to the stage show at Disney's California Adventure (which I saw nearly 10 years ago). The narrative closely follows that of the Disney movie, Aladdin. Aladdin, a poor "street rat" helps Jasmine in vagabond disguise and falls in love with her before realizing that she's a princess. Selected as the "diamond in the rough", Aladdin is sent into the Cave of Wonders where he finds the magic lamp, meets the incredible Genie, and has three wishes with which he tries to win over Princess Jasmine. The show is really well-done and is of Broadway quality (though I'm thinking I need to see Aladdin on Broadway soon so that I can compare) with elaborate sets and costuming, great choreography, and outstanding vocalists. On top of that, the Genie is hilarious and does a great job of incorporating modern-day pop culture jokes into the fairy tale. The musical was very impressive, and it showcases their very talented cast.
Disney Wishes
follows three friends visiting Disneyland the night before their high school graduation. The protagonist, Kayla, is Valedictorian of her class and stressed because she still hasn't finished writing her graduation speech. Her friends, Nicole and Brandon, are boy/girl twins. Brandon has a major crush on Kayla and is trying to work up the nerve to tell her that he likes her (can you say
Kiss the Girl?
). Nicole is getting really annoyed that her friend is too worried about her graduation speech to have any fun. Kayla makes a wish to have the best night ever on a magical coin that she found the first time she went to Disneyland years ago, and the three friends get taken through Disney musical numbers. Perhaps it's a bit of an advertisement for Disneyland... but then again, aren't Disney Parks and Disney Cruises, for that matter, advertisement for Disney movies? While the plot is incredibly corny, the musical productions are exceptional. Disney Wishes, in my opinion, had the best choreography and set changes of all three main theater productions. My favorite number was a hip-hop spin to Pinnochio's "I've Got No Strings". It's a great remix of the song, awesome choreography, as well as great lighting effects. Wishes is Disney storytelling at its finest. The musical numbers are so well-written and cast incredibly talented that I'm willing to overlook the corny narrative.
Disney's Believe
is another mash-up of popular Disney songs. Dr. Greenaway is so focused on his garden that he overlooks his daughter Sophia's birthday. He is stressed about a flower which won't bloom, and Sophia tries to convince him that he just needs a bit of magic. Dr. Greenaway doesn't believe in magic, so Sophia makes a special birthday wish to turn her dad's watering can into a magic lamp. Out pops Genie (yes, the same spectacular Genie from Aladdin - A Musical Spectacular) to grant Dr. Greenaway's accidental wish to believe in magic. The narration and story line in Disney's Believe isn't quite as corny as Disney Wishes. However, I found the set changes and choreography to be more impressive in Wishes. For a great portion of the show, the setting remained in the garden and Disney characters came there. It wasn't until later that the set began changing. I suppose you could look at the set changes as symbolic of Dr. Greenaway's ability to believe in magic. As he becomes more open to the idea of magic, he is able to leave the garden and enter new, fantastical worlds. Of course, this show wouldn't be nearly as impressive without Disney's incredible cast. The actor who plays Genie is very talented and adds the perfect dose of comedic relief throughout the show. At first, I wasn't too sold on the actor who played Dr. Greenaway, but throughout the show we hear more of his great vocal talent. Also, this show incorporates an incredibly catchy original song, "What Makes the Garden Grow" which we found ourselves singing the rest of the week.
An Unforgettable Journey
is the final show and, ironically, the most forgettable stage show, as I am having difficulty remembering the musical numbers performed, and I even forgot to write about it in my
Disney Fantasy Day 7
post. It begins by showing elements of the ship, similar to the Fantasy Come True "Welcome Aboard" show. Then they use quotes and video clips of Walt Disney, showing how his legacy lives on. I remember thinking that the the history of Walt Disney is a great concept for a stage show, but this was a weird, half-trying version. While I think in general, it is a bad idea to leave guests with your worst work, I didn't remember this hodge-podge show, and it did not affect my memories of the three outstanding main theater productions.
Mickey's Pirates IN the Caribbean
is performed on the deck stage and includes the "Mickey & Friends" cast of characters. Mickey teaches us all how to be pirates, fortunately, before Captain Hook takes control of the ship. He even shows us a video of the bridge where Smee has tied Commodore Tom and his crew together. Captain Hook challenges Mickey and his crew (including us in the audience) to a Captain's Challenge and agrees to relinquish control of the ship if we succeed. If we lose... Mickey walks the plank! Fortunately, we were able to help Mickey win the challenge, but I would encourage you to pay attention to the rules of being a pirate because I am confident that Captain Hook is sincere in his threat to make Mickey jump overboard. Since it is a deck show, there are no elaborate set changes and movement on stage is very limited. I would compare the scale of this production to that of the castle stage show performed throughout the day at the Magic Kingdom.
Buccaneer Blast
features Jack Sparrow from Disney's Pirates of the Caribbean movies. It was absolutely the worst Jack Sparrow acting I had ever seen. I think Jack Sparrow would have rather walked the plank than participated in that show. His voice and overall demeaner weren't that bad, but his deliver was terrible. His excitement was equivalent to that of a telephone operator. On top of that, the plot and dialogue were really bad and hard to follow. I would have to say that this was absolutely the worst show all week. Followed by the Jack Sparrow terribleness was the fireworks show. The scale of the fireworks show is quite small in comparison to the incredible fireworks at Disney Parks, but there is an added coolness factor when the fireworks are shot out of the stack of a cruise ship. And they are of course synced to music (Pirates of the Caribbean soundtrack) because that is how Disney rolls.
I found entertainment on the Disney Fantasy to be exceptional. Of course, I should note that growing up Disney, I am quite fond of Disney music and therefore really enjoy shows with Disney songs and stories.... perhaps more-so than normal people. Disney love aside, I can truly say that Disney Cruise Line had by far the most talented performing cast I have seen on a cruise ship. I have yet to see another cruise line offer five beautifully written original productions. Of course, Disney is first and foremost in the entertainment industry, so I wouldn't expect anything less.
Max's Rating: 8/10
I personally prefer comedy or more of an entertainment show, rather than a musical. So for my preferences, it wasn't my favorite option for entertainment, but at the same time, they executed what they did very, very well. And I did enjoy every show I saw, so I give it a super solid score. But compared to the Norwegian Epic, I did enjoy Blue Man Group and Cirque Dreams dinner show ($25-35 per person) better than Disney's musical productions. Also, while the actual theme shows that Disney provided were good and well-performed, the contracted guest shows were really lacking in quality. I didn't really care for the hypnotist or Buckets n' Boards. Also, the Johnny Depp show at Pirate Night wasn't very good.
Rachel: 10/10
Definitely the best entertainment I've ever seen at sea. The only thing that comes remotely close in talent was on my spring break cruise on the Norwegian Dawn when they had acrobatic people, but that's the only other good show I've seen. I feel like the Cirque Dreams dinner show on the Epic and Blue Man Group don't really count because they brought in outside show groups that already existed. So when it comes to writing original Broadway-style shows, Disney takes the cake on that.
Dining = 7.5/10
Disney Cruise Line introduced the concept of rotational dining with its first ship, the Disney Magic. There are three main dining rooms onboard, each with its own unique theme. Every night, guests eat dinner in a different dining room, and the service team comes with them. That way, guests get to experience great service and establish relationships with their waiters like in traditional dining on cruise lines, but they get a change of atmosphere every evening. Going into the cruise, I found the rotational dining to be really innovative, and I liked the idea of it. While I did appreciate a change of scenery and being able to eat in three wonderfully designed dining rooms, halfway through the cruise we had established our favorite dining room, Royal Court, which is actually the venue most resembling a grand dining room on other cruise lines (I've always loved the elegant feel to Royal Caribbean's multi-level dining rooms). Fortunately, it was the dining room that our rotation put us in for three different nights (we were also lucky that we were in our least favorite dining room, Enchanted Garden, only one night, as we had made our Palo reservation for our other scheduled night), so it wasn't too different from being in a traditional dining setting. However, I did appreciate the great attention to detail and storytelling that went into every dining venue, and I enjoyed the opportunity to eat in all three.
Enchanted Garden
As far as food goes, Disney Cruise Line doesn't have a reputation for having outstanding quality food. However, I didn't really have any issue with it, and I certainly didn't go hungry for the week or find any food inedible. There were even a few times when I thought my food was really great (the pork medallions I ordered the first night for dinner in Enchanted Garden come to mind). I also liked that their desserts were a bit more simple and that they offered a sundae every night, as often on cruises I find that the dessert is too rich for my taste. As for Cabana's, this is the first time I have ever seen crab legs served in a buffet. The food options were rather different from other cruise lines, but they didn't really switch it up from day to day. Of course, on several days, I missed the opportunity to dine here because lunch hours were very limited (11:30 AM -2:00 PM). The quick service dining options at Flo's V8 Cafe on the pool deck suited me fine. I actually enjoyed being able to eat simple foods like hamburgers, hot dogs, and chicken nuggets (I honestly can't think of another cruise line that serves chicken fingers on a daily basis).
Lobster in Royal Court from Captain's Gala menu
We also really enjoyed finding Disney Parks food items on the ship. They served Mickey-shaped pretzels at Flo's V8 Cafe, turkey legs at the buffet on Pirate Night (I should mention that the midnight buffet is something that most cruise lines have done away with), Mickey Mouse waffles for breakfast, and Mickey Mouse ice cream bars available on the children's dessert menu at dinner or to order from room service.
Palo is DCL's adult-only Italian signature restaurant offered on the dream at $25 per person (Remy, the French adult-only restaurant is $75 per person). While I discussed before that I was disappointed by our overall
Palo experience
, the food was good (once I swapped my steak for tuna). I don't think it was $25 additional per person good, but I would be willing to pay the $10-15 per person that DCL originally charged ($10 until 2008, $15 until 2010, $20 until 2013). I just felt that my Palo experience didn't live up to all of the hype and that it wasn't a great value.
Grilled Tuna at Palo
The bottom line is that while Disney Cruise Line's food isn't the most original, fantastic food I've ever consumed in my life, it was by no means bad. Honestly, I find it quite on par with all other cruise lines that I have sailed (Royal Caribbean, Princess, Norwegian, Carnival), and besides my
experience
at Palo, I was not disappointed.
Max's Rating: 9.5/10
I thought their buffet was good. They had a lot of options, and I enjoyed what I ate there. I also really appreciated that the pizza place was almost always open. The chicken fingers on point. The cookies best ever. Ice cream was good. Room service good and very prompt. I also enjoyed all of my food at dinner. Personally, I liked Palo. I thought my entree (tuna) was really good, and my dessert (chocolate amaretto cake) was delicious. However, the atmosphere definitely wasn't my favorite, and our server wasn't the best. I didn't think it was worth the extra $25, but I didn't think it was bad. The only thing that is keeping it from a 10 is Palo. There was nothing I didn't like about the food. I just wish they had a sushi restaurant.
Rachel's Rating: 7/10
I didn't think the food was of exceptional quality. Every now and then, I had something that was really great, but it wasn't overall amazing food, and I didn't find it superior to any other cruise line. I didn't like that their buffet hours were very limited, but I like chicken nuggets and pizza, so I didn't mind eating at the outdoor stations on the pool deck. But other people probably like more variety, and when Cabana's is only open for three hours, it makes it difficult to get there.
Bars + Lounges = 9/10
DCL has designed a beautiful adults-only night district on the Disney Fantasy called Europa which consists of five European-themed bars and lounges. La Piazza which is Italian-themed is the most central bar and serves as a hub for Europa. The bar itself is a carousel, and there are small but plush booths circling the wall of the lounge. La Piazza serves Italian drinks like prosecco, wine, grappa, and limoncello. There is often live music, and the lounge has the capability to serve as overflow seating for The Tube, equipped with a drop-down projector screen. Also at La Piazza is a small bar with self-serve hors d'oeuvres.
Adjacent to La Piazza is Ooh La La which is completely closed off (at for adults 18+ at all times of the day) and very private-feeling. The French lounge offers exclusive champagnes, as well as delicious champagne cocktails which we enjoyed a few times throughout our cruise. We enjoyed the bubbly drinks and exclusive-feeling atmosphere.
The Skyline Lounge is the other entirely closed-off bar which is also reserved for adults 18+ at all times of the day. The lounge features a wall of screens which show video footage of famous European skylines. The menu features drinks for each of the skylines that appear - Paris, London, Barcelona, Athens, Florence, Budapest, and St. Petersburg. Of all of the bars, I found the Skyline Lounge to have the most creative drink menu.
O'Gills is the Irish pub which we honestly did not spend a lot of time in. I'm not a beer drinker, but I thought that for a pub setting that the beer and especially draft beer menu was really limited (though at four draft beers, it was the most draft offered at any bar on the ship). And of the bottled beers on the menu, the only Irish one is Guinness Stout, your stereotypical Irish beer. The three O'Gills drinks listed at the top of the menu are creative, but the vibe is ruined with all of the tropical beverages listed below.
The Tube is the British-themed nightclub and entertainment venue. This is where the adults-only shows and nighttime activities, like Match Your Mate and Quest, are held. I surprisingly never ordered a drink here, but the menus are really cool - when you're ready to order, push the button on your menu to turn it red so that the bartender will know to come to you.
The other bars located around the ship are of course more subdued in theming. There are several bars in the pool deck in the adults-only area, but I do wish that they had a more easily-accessible bar on the main pool deck (I suppose they wanted to keep bars away from the kid areas... understandable, I suppose), as there is only Frozone which serves Frozen drinks, but also draft and bottled beer and mixed drinks, the "hidden" Waves bar which serves more as a service bar for the bartenders rotating the pool deck, and then the little carts from which they serve beverages.
Overall, I was impressed by the bars and lounges on the ship - by the large number of bars and by the very detailed design. I think that this is an area in which Disney tried very hard because they aren't just in the business of entertaining children, but families. Because Disney Cruise Line is considered very kid-centric, I think they made a special effort to create spaces which were really special and great for adults.
Max's Rating: 8/10
I did enjoy the Mixology class in the Skyline Lounge. I liked Ooh La La; I thought the drinks in there were really good, and I got the peach bellini I wanted. I liked the Wave bar because it was hidden, so there was never a line, and they always had the beer I wanted on draft (Michelob Amber Bock). I really enjoyed the beer mug because it saved me a lot of money and was what I really wanted to drink, anyway (draft beer). The bar connected to the pool looked really cool, even though we never stopped at it. I wish they had a bigger draft beer selection, especially since they were advertising it with the mug. There were only six to seven different draft beers, but only two or three per bar, and usually Budlight and Longboard. Maybe I wasn't looking in the right places, but it seemed like every bar just had Bud Light and one other beer on draft. I went in O'Gills only once to get a draft beer that was recommended to me by another bartender, but the service there was awful. The bartender was rude and acted like it was a trouble to help us. We wanted to taste a beer before we tried it, but he wouldn't let us. I've never had that experience before at any bar, so I thought that was weird, especially since it was a Disney cruise and they are known for outstanding service. But everywhere else was pretty good. However, I really liked the relaxing atmosphere at the Red Frog Pub on the Carnival Breeze. I felt like everything on the Disney Fantasy was sophisticated and dark, but I wish they had a Caribbean-feeling bar.
Rachel's Rating: 10/10
They did really good with theming. It made you feel like you were big stuff when you were there. Like you were a big deal. My favorite cocktail was the Elderbubble from Ooh La La.
Service = 10/10
The Walt Disney Company has very high expectations for service, whether it's in Disney Parks, on Disney Cruise Line, or at the Disney Store in the mall. Therefore, I had very high expectations for service, and Disney met them in every way. I also believe that this is the best service I have had on a cruise in a really long time.
Our dining room staff went above and beyond from Day 1. Tana, our waiter, was extremely friendly and worked very hard to make sure that we were always happy. He was very good at showing his personality but not being over-the-top and annoying. When we dined at Royal Court, he showed us some waiter "magic", but he really won us over when he special-ordered us key lime pie. I have never before had a waiter go out of his or her way to get our favorite dessert made for us. And it has been years since I've been able to enjoy key lime pie on a cruise ship! So I must commend Tanaphong from Thailand for being an absolutely wonderful waiter.
We actually didn't meet our cabin steward until I think the fourth day of the cruise which is quite unusual. However, it wasn't something I was upset about because Max and I had been annoyed to no end by our cabin steward on the Carnival Breeze who kept walking in our room unannounced and even asked us to leave for dinner early one night so that he could go ahead and clean our room. So we really appreciated that our cabin steward on the Fantasy was able to get in and out of our room without us ever seeing him. He did a very good job with our room, made us towel animals every night, and fixed our safe as soon as it broke.
I only had two slightly negative experiences all week, and that was our strange server at Palo (who wasn't rude, just socially awkward and trying way too hard) and the bartender that ID'd me at the adult pool (who was just doing his job and was probably embarrassed and eager to get away). I also did not witness this, but heard from Dad and Max who were shocked with a rude bartender at O'Gills who would not let them taste the house draft beer before buying it (the only time that happened all week). Everyone else on the ship was very friendly and eager to help. The cast members always said hello in passing. I stopped at Guest Services once and the Port Adventures desk once, and my visits were very quick and efficient. I also must commend the entertainment team for being absolutely wonderful all week. There were about six of them, and they had all kinds of jobs from guiding guests around the ship to hosting family game shows and leading pool dance parties. Not only were they always smiling and energetic, but they would interact with guests on a more personal level and make friendly small talk. I really enjoyed seeing them all week and I wish that I remembered their names.
Max's Rating: 10/10
Our servers at dinner were good. Our cabin steward was great, even though we didn't meet him that much; it was a great feeling to never get walked in on. He was very respectful of our time and schedule which I really appreciated. Everyone was nice and willing to help you in any way they could. Arthur at Mixology was really good, and Jesse at the captain's reception was great - give him bonus points. The bartender at Frozone went up to the Waves bar just to get me the beer that I really liked. Like I said, the guy in O'Gills pub was really rude, but even counting that, it was still the best service by far I've had on a ship. Everyone was so nice and cheerful.
Rachel's Rating: 10/10
Service was great. I've never had anyone special order me a whole key lime pie before. Everyone else could have sucked, and they'd still get a 10 because Tana brought me a key lime pie.
Design + Aesthetics = 10/10
I've said it before, and I'll say it, again. This is absolutely without a doubt the most beautiful cruise ship I have ever sailed on. The Disney Fantasy is a gorgeous ship. We can start with the exterior - the black hull is nostalgic of transatlantic ocean liners. The lifeboats are painted a yellow color, rather than traditional orange (back in 1998, DCL had to prove to the coast guard that yellow was just as visible). Of course, branding is essential, and the Disney Fantasy has a very tasteful DCL logo positioned on its stack. A giant Dumbo paints the logo on the aft of the Disney Fantasy (Goofy paints the Magic, Donald the Wonder, and Sorcerer Mickey the Dream).
The three-story grand atrium of the Disney Fantasy is jaw-dropping. Inspired by Art Nouveau patterns, the atrium features hues of pink, blue, and green to complement the vivid gold. At the bottom of the grand stair stands a bronze-cast statue of Madmoiselle Minnie Mouse, dressed in vintage fashion with a parasol and steamer trunk. And one cannot overlook the beautiful chandelier which illuminates the space. The attention to detail is amazing - check out the bronze reliefs of Disney characters along the bottom of the second and third floors which overlook the lobby floor.
Preludes and the souvenir shops aboard the Disney Fantasy progress from Art Nouveau into a more Art Deco style of the Walt Disney Theatre. The beautiful two-story theater is a grand space with plush chairs. The theater design is excellent with surround sound and a stage built for multiple set changes with many moving pieces.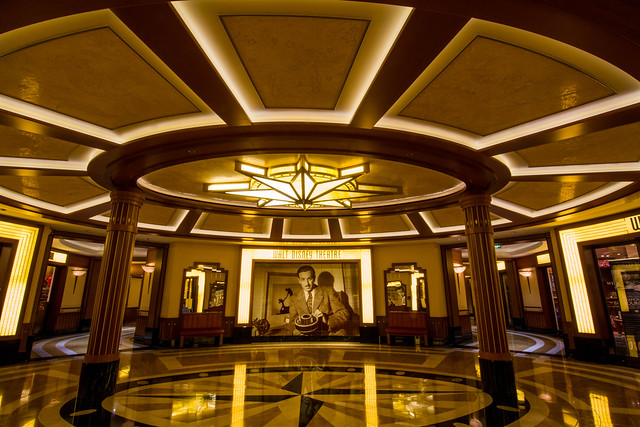 I feel like I've already covered in great detail the beautiful designs of Europa, the adult-only district located at deck 4 aft. Each lounge is elaborately themed with great detail - Ooh La La, the French champagne bar; Skyline Lounge featuring views of European cities; La Piazza, the Italian-themed lounge; O'Gills, the Irish Pub; and The Tube, the British-influenced night club.
The children's clubs on deck five are extremely elaborate and worth visiting, even if you don't have a child of your own. The Oceaneer club has four distinctly-themed rooms - Monster's Academy, Andy's Room (Toy Story), Pixie Hollow, and Disney's Explorer pod. The entire space is designed so that kids will feel as if they have entered an entirely new world. I know that I would have really enjoyed those spaces when I was a kid.
Pixie Hollow in Oceaneer Club - photo by Binh Petit, used with permission
The three rotational dining rooms also have very distinct themes - Enchanted Garden, resembling the Gardens of Versailles; Royal Court, a grand dining room influenced by Disney Classics Beauty and the Beast, Cinderella, and Sleeping Beauty; and Animator's Palate, designed as an animator's studio with interactive artwork. All three dining rooms incorporate innovate light design which truly helps to transform the space. Small details such as the paintbrush butter knife in Animator's Palate or the carriage light fixtures in Royal Court are very effective in telling the story.
I could honestly continue on and on, analyzing the design of the entire ship, but I will stop short. If you read my rating and conclusion for the Carnival Breeze, you might recall that I all but ripped them apart for having many different themed spaces that did not go together. And I have just described many differently-themed spaces aboard the Disney Fantasy. The difference is that the Imagineers at Disney understand the importance of transition (which is very evident in their theme parks and the architectural transitions from one land to another in Magic Kingdom). The method is to gradually take away important theme-identifying elements to create an almost neutral space before introducing the next theme. And one effective way of doing so is by creating an approach. The next time you're on the Disney Fantasy, notice how the "marble mile" on deck 3 transitions from the Art Nouveau atrium to the entrance of Royal Court to the entrance of Animator's Palate. As you walk up stairs, pay attention to how the artwork and colors change as you ascend from one space to another (this is also evident in the elevator lobbies). Transitions from space to space were carefully designed, and for that, I applaud the Imagineers who designed the Disney Fantasy.
Max's Rating: 9.5/10
It was the best looking ship I've ever been on, that's for sure. I really liked the exterior design - it's a really good-looking ship. It was always clean, inside and out. When you first walk in.... everything just looked nice and fancy and elegant. Even the theming at the bars - the small details like light-up menus at Skyline Lounge were really well done. I thought that Animator's Palate had a cool theme, and I really liked the show where you drew your own characters which was a great way to interact with guests and engage the audience. However, I didn't enjoy the Nemo theme and thought it was too similar to Turtle Talk with Crush at Epcot, and I honestly thought his voice was awful. I actually liked the small detail in the butter knife paint brush so much that I almost wanted to buy one. I really enjoyed the theming of Royal Court and that dining room in general. I liked sitting in the round table in Enchanted Garden, but didn't care for the location of our table on the first night. They really went all-out in every rotational dining room. The spa design was really nice. The Nemo splash area was pretty cool, and I liked the set-up and Caribbean feeling in Cabana's. The only thing pulling away from my design score is that I wish there was a more laid-back, Caribbean-style atmosphere. It was either playful for kids or sophisticated for adults - there wasn't really a middle ground. So while the attention to detail and overall execution was great, the theming isn't my personal favorite.
Rachel: 10/10 (visual) 7/10 (function)
Really ritzy, fancy, and nice. It felt expensive, which I guess is good because it was expensive. While the appearance was awesome, the layout bothered me because it could be really confusing which floors you could actually cross the ship on. On Deck 4 by Europa, if you went on the wrong side of the stairs (by O'Gills) you felt like you couldn't cross through, but you could - you just had to open a door. And by the pool deck, there was one spot by the Aqua Duck where it was hard to get down because you had to walk through Cabanas which was awkward if you were just by the pool in a swimsuit because you felt like you couldn't just walk through in a towel. The walkability of the ship could have used improvement. I feel like I've been on other ships that have done it better. And I did a walking tour of that ship, so I felt like I really should have known my way around better than on other ships.
Cabin = 10/10
In my cruising history, I've had all sorts of cabins - from an inside cabin on the Carnival Inspiration to a
grand suite on the Monarch of the Seas
with ocean views, balconies, family rooms, and junior suites in between. That being said, the family ocean view stateroom on the Disney Fantasy is by far my favorite stateroom that I've ever stayed in. If you read my
Disney Fantasy Glad I Did/Wish I Did
, you already know that I debated heavily between booking a family verandah stateroom or a family ocean view. Ultimately, I am so glad that I chose the ocean view cabin because we loved our giant porthole window and did not miss the balcony at all.
This stateroom is incredibly well-designed. Disney was the first stateroom to introduce a ship in which almost all cabins had a split bath back in 1998 with the Disney Magic. The idea is that with a toilet and a sink separate from the bathtub and the toilet, families can get ready quicker and at the same time. And it's nice to be able to use the bathroom while someone is in the shower. Speaking of the shower, the family staterooms on the Disney Fantasy and Disney Dream feature a smaller, round bathtub (as opposed to a standard-size bathtub) with a rainfall shower head which is absolutely amazing.
We had plenty of storage space in the room, and I was surprised that we actually had an empty cabinet left once everything was stored, and we never put anything in our steamer trunk (this is with three people who are far from light packers). Another neat feature is that all of the drawers are slam-proof. When you close a drawer, it stops short and slowly closes the rest of the way. Our vanity was huge with a large mirror, and we had plenty of space to get ready side-by-side.
I enjoyed having the pull-down murphy bed in addition to the sofa bed which converted into a twin. Since we only had three people in the room, even when the beds were made down, we still had plenty of space to sit and move around in. Also, while the two little beds weren't incredibly comfortable, the queen bed more than made up for it. But since I'm assuming that the fold-out beds on Disney ships get used probably more than on any other ship, they could be a little softer.
As far as overall design in the room, it was beautiful. I loved the nautical decor - the wood finishes, navy and blue hues, and nautical Disney artwork. There are also small Disney details everywhere from Mickey-shaped door knobs to cutouts in the lamp heads. The room was really great, and I would definitely book this stateroom again and recommend it to others.
Max's Rating: 10/10
The cabin was really nice. Even the way the extra beds pulled out was cool. I loved everything about that window. It was amazing. I liked how the room was pretty big, and it could be completely dark in there, even if it was daylight outside. It was pretty soundproof, and I never heard anyone else from other rooms or the hallway which was nice. I really, really liked the rainfall shower. It was great. I enjoyed the on-demand TV, even though we discovered that a little late in our cruise. One downfall to the cabin was that it creaked really bad - it was severe, especially on the last night when it was really rough at sea. But aside from that, I didn't have any problems. Well, the fold-up beds could have been more comfortable.
Rachel's Rating: 10/10
The best one I've ever stayed in. I loved it. I loved my window and my big queen bed. I loved my rainfall shower. Oh my gosh - that shower was amazing. I liked all of the counter space and cabinets. It was a really big room, and I didn't feel like I was crammed into a cruise ship cabin. There was plenty of room for activities... like handstands.
Total Score = 90/100 (90%)
This cruise was exceptional, and I loved almost every bit of it. Disney did not disappoint. However, I think it is now important to talk about value. I have said before that for less than what we paid for our family ocean view stateroom on the Disney Fantasy, we could have sailed in a suite on the Carnival Sunshine with nearly the same itinerary. So why Disney? Was it worth it?
I chose Disney Cruise Line because this was a cruise celebrating my college graduation. I love Disney. I love cruising. A Disney cruise just made sense. The price was a little difficult to swallow, but if there was ever a time to try a Disney cruise, this was a pretty darn good one.
Value for money.... Disney provides an exceptional product. In many areas, I believe that Disney excels beyond other cruise lines I have sailed. Customer service is wonderful. Design is extraordinary (and we must keep in mind that as a graduate of architecture, design is something that I truly value). And so I did not feel like I had been ripped off or overcharged for the price of the cruise. The reason that Disney can afford to charge a higher cruise fare is because their product is worth it - or at least enough people believe so.
That being said, I would not consider myself a Disney Cruise Line convert. For one, I have worked to rid myself of obsessive loyalties since leaving Royal Caribbean to try other cruise lines in 2012. Second, Disney Cruise Line only has four ships in the fleet and is therefore limited as to what itineraries they can sail at certain times of the year. Other cruise lines may simply be a better fit for my needs. And finally, I simply cannot afford to only sail Disney Cruise Line - at least not if I were to continue vacationing as frequently as I like. But in the future, (hopefully not too far in the future) I will definitely return to Disney Cruise Line.
Max's Rating: 90%
Overall, I really, really enjoyed the cruise. I thought it was really fun. As far as it being Disney which is well-known for children, I didn't think that children were a huge factor (aside from princesses). It's definitely, as far as the ports, my favorite itinerary. And I felt like we were doing things most of the time - we didn't even lay out by the pool that much. There were plenty of things to do, and I enjoyed the variety of things they had. As for an overall cruise rating, I liked it a lot. It's up there with the Epic, and it could very well be higher than the Epic, but honestly, I no longer completely remember it because it was a year ago. As far as value, I thought it was a little pricey. I think the Epic was a better deal for the money, but I feel that's expected with anything with the Disney name. It's going to be overpriced. But you're still getting a really good product. It's expensive, but I felt like I got my money's worth. I was a little worried about going on Disney because of the kid atmosphere and not having stuff to do, but it was surprisingly well-adapted for adults. I would go on another Disney cruise, even with the cost. Being a new cruiser, there are other ships that I would definitely want to try before I do another Disney cruise, but I would absolutely sail Disney again, even as an adult with no children. And it's definitely something that I would want to bring my kids on in the future. This was probably my favorite cruise I've been on when including itinerary and cruise ship. That being said, money plays a part. If I had to choose between going on an Epic cruise or this cruise with the same itinerary, I would probably choose the Epic because it's significantly cheaper, and I liked it just as much. It can't be that every time I go on another cruise, it's Disney... it's got to be like, "Yeah, I got a bonus!" or something like that - a celebration cruise.
Rachel's Rating: 89.5%
The most impressive cruise that I've ever been on. A lot of times with my spring break cruises or last minute ships, I go in with really low expectations or no expectations at all because it's a cheap cruise or an old ship. So then, I feel like the cruise itself has an unfair advantage because I had no expectations, so the cruise exceeds my expectations. That being said, I went into Disney with extremely high expectations, and I would say that they exceeded them. So when you compare those on two level playing fields (if there were no expectations for Disney), Disney Cruise Line really stands out. Disney wins. I didn't expect myself to like it as much as I did.... which was so much more than other cruises. Disney is my new favorite cruise line, but I also know that it's significantly more expensive, so it's not like I look down upon other cruises because they're not Disney. I don't expect everyone to live up to Disney's level of awesomeness because they cost half as much.