We started our third day in Orlando bright and early at Epcot's park opening.
As soon as we entered the park, we joined the crowd headed straight for
Soarin'
. It was the mad rush of the day, and we did a speed-walk pass around a Japanese tour group when they briefly stopped to collect themselves.
While we successfully walked onto Soarin' with at most a ten minute wait, we did not beat the crowds to Test Track. My guess is that everyone secured a FastPass+ reservation for Soarin' (both are Tier 1 attractions at Epcot), so they went straight for Test Track when we were on our Soarin' race. I had made all of our FastPass+ reservations at Hollywood Studios for the day because we had park-hopper passes, and I believe Hollywood Studios to have more FastPass-worthy attractions than Epcot.
Test Track had a 60 minute wait, and we didn't have 60 minutes to kill before our breakfast reservation at Cape May Cafe. So we skipped out on Test Track and instead walked right onto
Mission:Space
.
I then warned the others that we were in for a long, hot walk to the
Beach Club Resort
for our breakfast ADR. We prepared for the journey by taking a nice restroom break at what I believe to be one of the largest, cleanest, coolest, and often least-crowded restrooms on the park.... the Odyssey restrooms.
World Showcase
doesn't open until 11 AM, so it was a great time to get photos of the country pavilions without people.
Rather than hopping on the Friendship Boat, we kept walking. The long haul is from Future World through World Showcase. Once you're out of the park, the Beach Club Resort is just a short walk away (also, the boat drops you at the dock shared with the Yacht Club, so then it's a bit of backtracking to the Beach Club Resort where Cape May is right off the lobby).
Breakfast - Cape May Cafe
To check-in, I waited behind a family who didn't have a reservation and was trying to decide whether of not they should wait an hour to eat. They debated for a few minutes right at the podium. I'm not sure if they realized that I had a reservation and just wanted to check-in, but they were preventing me from doing so.
Cape May Cafe is a character breakfast. There are only three characters who attend - Minnie, Donald, and Goofy. However, the rate of their rotation is pretty quick. It might have been because we had a later breakfast reservation, but the characters circled the room three times while we were dining.
There is a great breakfast selection at Cape May Cafe. Really, I think everything is good.
It's not a Disney breakfast without Mickey Mouse waffles...
And, of course, another birthday cupcake...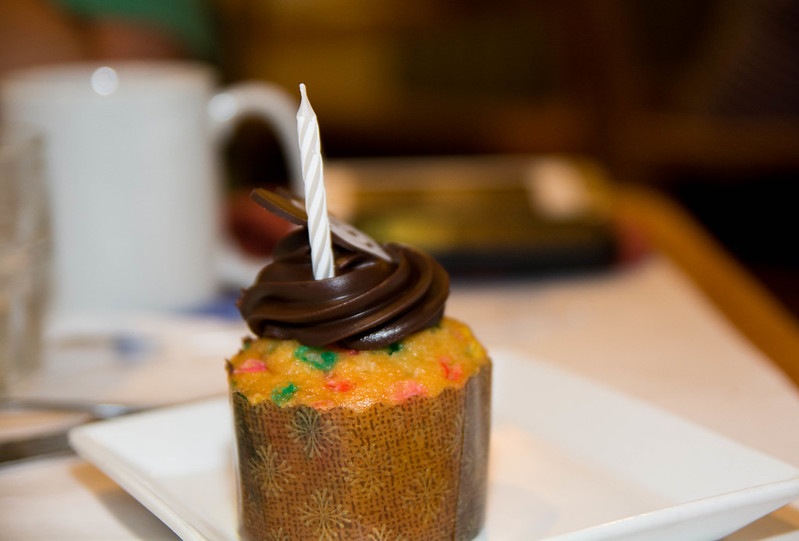 My favorite area of the Beach Club Resort might be the airy, light-filled hallways.
It was a lot of walking that morning, but thankfully, Max was much more comfortable in his new shoes...
We took a break from walking and took a Friendship Boat to Hollywood Studios.
Hollywood Studios
Frozen Summer Fun was in full swing at Hollywood Studios. I had watched the sand sculptor create Olaf from a big pile of sand on my
Independence Day Trip
when Frozen Summer Fun first launched on July 5th.
Our first FastPass+ reservation was for Star Tours. Natalie is a big Star Wars fan, so we had some fun in the gift shop after the ride building Droids. You can choose colors of the body, legs, and arms. Also, you can add cute Disney-themed hats.
Our next FastPass+ was for
Tower of Terror
. I was really disappointed that I missed the live actors posing on the bench on the terrace. The wait was only 20 minutes, so we immediately did stand-by after riding, but the actors had left when we returned.\
I love Tower of Terror. It might be my favorite attraction at Walt Disney World. It feels wrong to choose a favorite attraction... it's like choosing a favorite child. So we'll just say that Tower of Terror is definitely a contender. I love the adrenaline rush of free-falling and not knowing exactly what will happen next. Add that to the original story and excellent theming, and you have what I consider to be an exceptional theme park attraction.
Our final FastPass+ of the day was for
Rockin' Roller Coaster
, another one of my favorite Disney attractions.
Epcot - Drinking Around World Showcase
We returned to Epcot later that afternoon to explore World Showcase as much as possible in one evening (fully exploring World Showcase really requires an entire day). Also, drinking around the world really made me sad that I'll be missing out on the Food & Wine Festival this year.
First stop - France.
I ordered the
Grey Goose Grand Marnier Orange Slush
.
And Max had the
Kir Royal
. We were both disappointed that some of our favorite French drinks are exclusive to the Food & Wine Festival.
Continuing counter-clockwise around the lagoon, we arrived in Morocco.
Max and I ordered
white sangria
while Rachel got a Henna tattoo. The 3D texture peels off, leaving flat temporary ink that lasts a few weeks.
On to the United States Pavilion!
Here they offer beer and cider. I feel like there should be some whiskey mixed-drink options.
We were eating dinner in Japan, so we skipped ahead to Italy. I had
Prosecco
(left), and Max had a
Bellini
(right).
Dinner - Tokyo Dining
I hadn't made any dinner reservations for today prior to the trip (because I wasn't sure where we were going to spend the evening), but on the Friendship Boat from Hollywood Studios to Epcot, I used the My Disney Experience app to search for dining reservations in World Showcase and found availability at Tokyo Dining, where I had dined earlier in the year as part of the
Candlelight Processional dining package
.
We were seated quickly at a table overlooking the lagoon. What a great view!
To drink, I had the
Cherry Blossom Martini
. How lovely!
Natalie ordered the
Garden Salad
(mixed greens, tomato, and cucumber) which looks delicious.
I love sushi with roe, so I ordered the
Dynamite Roll
(California roll with wasabi mayonnaise sauce topped with tuna, yellowtail, salmon, and smelt roe). Such beautiful presentation -
Max had the Spicy Crunch Roll and Volcano Roll.
Volcano Roll
(California roll with spicy chili-mayonnaise sauce with tuna, yellowtail, salmon, smelt roe, and tempura crunch) -
Spicy Crunch Roll
(spicy salmon and tuna mix, cream cheese with green onion and sesame seed) -
Rachel ordered the
Bento Box
.
And Natalie the
Tuna Tataki
.
Max was skeptical about the
Green Tea Cheesecake
, but I convinced him to try it. So good!
And they topped Rachel and Natalie's
Chocolate Ginger Cake
off with what other than a birthday candle.
After dinner, we spent a ridiculous amount of time in the never-ending
Mitsukoshi Department Store
. Natalie was in heaven.
Max and I watched guests
Pick a Pearl
.
And then we dipped out for some
Frozen Beer
.
After Natalie got her postcards stamped at the Japan Pavilion, we were on our way....
Why not resume our drinking around the world by repeating Italy? I got
Fior D'Arancio
, and the Cast Member remembered me from before! It was a little sweet for my taste, but Olaf liked it (and I'm rather certain that Disney would not approve of this photo)...
Onwards to Germany, and the garden of tiny trains!
Natalie and Max hit Germany with
Jaeger Shots
. We aren't playing around, anymore. This drinking around the world just got serious!
Time for me to go crazy... with a
Tequila Flight
in Mexico! Only three of those are mine...
It was almost time for Illuminations. Max's favorite drink is the Dragon Berry Colada which they serve at the Food & Wine Festival, but I had also seen on the menu at the Refreshment Port (at the front of World Showcase near the Canada Pavilion). So I left them holding our fireworks spot over the bridge in Mexico while I went to the Refreshment Port to bring back some Dragon Berries.
Well, it turns out that it's a
Dragon Berry Refresher
, not a Dragon Berry Colada (it's not frozen)... just another reason I'm really sad about missing the Food & Wine Festival this year!
After Illuminations, we were able to see the Frozen Fireworks from Hollywood Studios -
We spent a bit of time at Mouse Gear (which I consider to be the best in-park Disney Store) before heading back to the Hilton.
NEXT:
[Day 4] DHS - Attempting the Kitchen Sink and finding the Greatest Souvenir EVER