On Christmas Eve we awoke in beautiful St. Kitts.
Rachel and I had ordered breakfast to be delivered to the room the night before. While Royal Caribbean offers a full breakfast menu for room service (unlike Princess Cruises which only delivers pre-made sandwiches), it should be noted that the eggs which are tasteless in the Windjammer are even less edible when delivered.
Here is photographic proof:
We were joined in St. Kitts by Ocean Princess.
Ocean Princess looks like a baby next to Independence of the Seas.
St. Kitts
Welcome to St. Kitts... we're watching you!
No advance plans. We just wanted a beach, and there were plenty of options. The port security guard referred us to Talbot who was driving a bus to the beach, $12 round-trip. Because we were the first in his bus, we had to wait fifteen minutes or so for him to find more passengers. That was slightly annoying.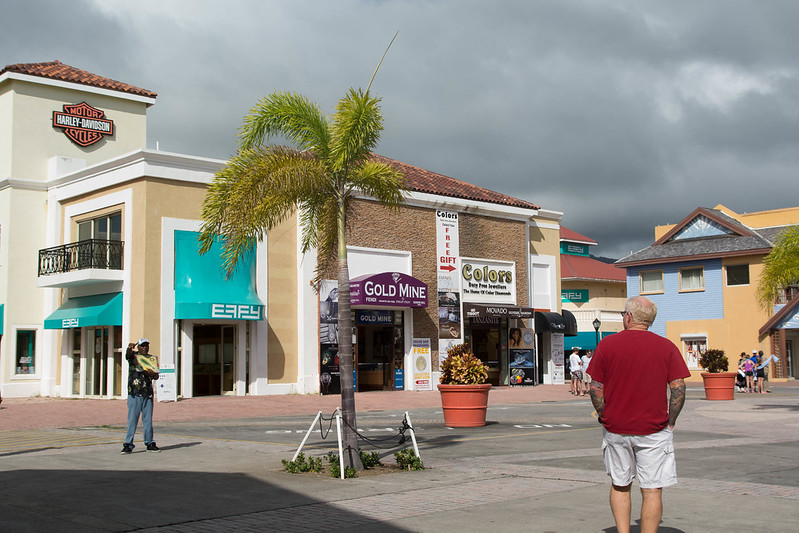 The ride to the beach was about half an hour. The cab drivers here like to sell you a round-trip. If they take you there, they want to come and take you back. So Talbot asked us when we'd like to be picked up. The other family responded 2:00, but my dad spoke up and said that we were thinking 3:00. Talbot suggested we meet in the middle at 2:30... fair enough.
Then we get to the beach and Talbot asked us if we wanted to pay $12 per person now or when we get picked up. Like most people cautious about paying for a service before it is received, we said we'd pay when he took us back.
Well, the other family wasn't having it. They wanted to pay him $6 now, $6 later. Obviously, they were preparing to potentially flake out and catch a ride back with a different driver. And Talbot really didn't want that.
If you find yourself in a similar predicament, my suggestion is don't be sketchy. Don't beat around the bush. You know what you want, so be upfront but polite about it. The driver wants your service and will most likely do his best to accommodate you.
Cockelshell Beach
As soon as we arrived and got settled with chairs, it began to rain. Luckily, the shower didn't last too long.
The beach isn't the biggest, and the chairs aren't the nicest, but the locals are friendly, and the surrounding landscapes are wonderful.
Overcast weather is fun to shoot in.
This is one of my favorite photographs from the afternoon. Hey, Nissan, this would make a wonderful advertisement -
Looks like some other Tigers had been here, too...
Sure enough, the family we shared a cab over with had already left. Our driver had taken them back a few hours earlier. We shared a van back with an even stranger family dynamic... the type of family that is definitely in some sort of argument right now, but most likely doesn't enjoy one another's company, anyway. Talk about an uncomfortable ride.
Set Sail
I have never seen more "runners" than on this cruise. There were guests running to catch the cruise ship immediately before departure in every port (except Labadee). It provided good entertainment for the guests watching from their balconies, though. Before we left, the captain made an announcement that we were waiting on two guests, so we would stay an extra few minutes to see if they could make it. I'm not sure if they did or not. We might have left them in St. Kitts.
Good-bye, Ocean Princess!
And away we go!
On the top deck photo walking, and guess who I ran into...
We agreed to do another lap around the top deck together. Dad was trying to catch the sunset. I was in love with these big, beautiful clouds.
Loyalty Party
When does my family get somewhere on time? When there's free booze. Naturally, we were at the Platinum+ Loyalty Party in the Pyramid Lounge before the doors opened.
Rachel and I missed the Welcome Back Party for all Crown & Anchor Members earlier that week due to our massage appointments, but Mom and Dad said it wasn't much of a party. I'm told that there was a much greater variety of beverages and hors d'oeurves at the Platinum+ party. Though, at risk of sounding like a diva, I was disappointed that they didn't offer caviar like they have in the past.
Champagne, champagne, champagne. Once you see the South Carolina State University Marching 101's
World Famous Champagne Dancers
, you won't be able to say it only once.
Romeo & Juliet Dining Room
Rachel and I both ordered the
Aged Hand-Cut Manhattan Strip Steak.
Except she ordered hers medium rare, and I ordered my medium well. And they accidentally gave us each other's steaks... so obviously I got the better end of the deal here. My bad.
Mom ordered the
Lasagna al Forno
. Kind of weird for lasagna.
And for dessert, Rachel had the
Creme Brulee
. She was not impressed. It was cold, and the consistency was all wrong. Rachel loves creme brulee. She did not love this.
I had a
dessert trio
. Much better. Except I didn't like the little red thing on the left.
Christmas Caroling
Royal Caribbean coordinated Christmas Caroling on Christmas Eve.
And Rachel and I received an early Christmas present from a new friend...
Check out Mrs. Claus -
The caroling was nice, but the staff got a little silly (I'm guessing they had some sort of big staff party immediately following). And while the goofiness was fine for Rudolph the Rednose Reindeer and Frosty the Snowman, it wasn't as appropriate for Away in the Manger or Silent Night.
NEXT:
[Day 6] San Juan