Our final port of call was Royal Caribbean's private island, Labadee, located on the north coast of Haiti.
We were awake early enough to watch us sail into port, and were ready to get off the ship. They made an announcement that the ship was not yet cleared and that they would make another announcement when we could get off. So we waited... and waited... Rachel and I saw our stateroom attendant and asked him if we could go to shore, yet, and he told us that they hadn't announced it, but it should be very soon.
We decided to go wait in the Promenade. That's when we stepped outside and realized... PEOPLE WERE ALREADY GOING ASHORE! We had been waiting half an hour for the announcement, and we could have already been off the ship!
We were in port with Legend of the Seas. Everyone on our sailing's roll call was disappointed that we would have to share Labadee with another ship. However, I think that the Legend of the Seas passengers had greater reason to be disappointed, having to share the private island with an additional 4,000 people. We hardly noticed their additional 2,000 people.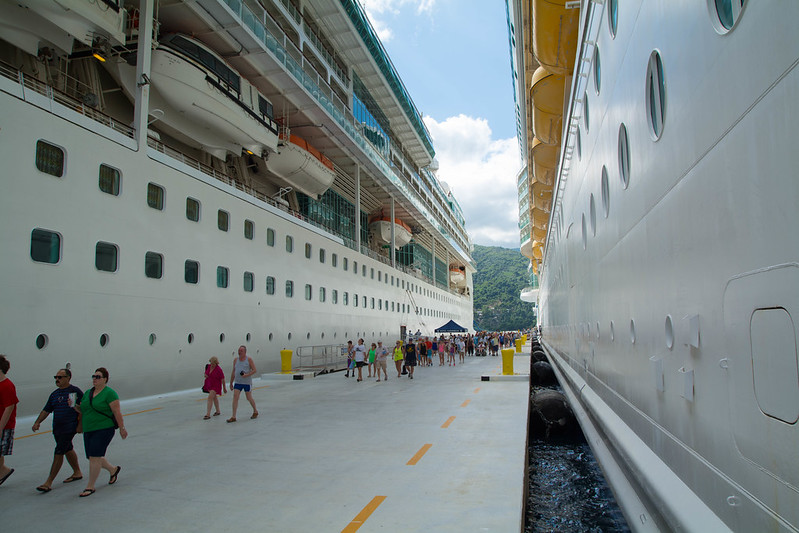 Labadee
We had been to Labadee once before in 2008, but a lot has changed since then. Before launching mega-ships Allure and Oasis, Royal Caribbean added a dock to Labadee so that passengers can walk straight off the ship, rather than tendering ashore (imagine doing that on a 6,000 passenger ship).
Now, I had heard that Royal Caribbean had really up'd their game with Labadee in the past few years. They've added other amenities/novelties like a roller coaster and water slide. And, of course, there is the zipline over the water... but that was there back in 2008 (only back then it was $75 per person, and now they're asking a whopping $95).
Novelties are great, but we came for the beach. While there is a lot of beach, it should be noted that swimming is only permitted in designated areas along the south side of the island (though there were plenty of people wading in the water on Adrenaline Beach, anyway).
We tried for the beach at Columbus Cove, first, but it was already pretty crowded, so we moved on to Adrenaline Beach. Every five minutes or so, you hear screaming of the people riding on the zipline.
I tried to nap on the beach, but between the random periods of rain, screaming zipliners, and the terrible smell of secondhand smoke drifting my way, I wasn't able to get much rest...
I was a little disappointed in the limited dining hours on Labadee. The buffet was only open from noon to 2PM which resulted in long lines during the entire two hour period. I'm a hangry person... I don't do well with long lines for food.
I had a little giggle with Labadee's tram system. Disney's Castaway Cay uses the same trams on the island as they do in their theme park parking lots - very sturdy vehicles built to carry thousands of passengers per day. So I couldn't help but smile to see Labadee's passenger cars being pulled by tractors!
The wait was long, but the buffet was worth the wait. It was perhaps the best lunch food I had eaten all week (maybe even the best food all week?). Dad and Rachel had hamburgers and said they were better than anything they had eaten on the ship, including Johnny Rockets.
I did a little island exploring after lunch. I didn't take photos of the market because I didn't want to stop. Just walking through, vendors were trying to dress me in jewelry (they're really aggressive) - I knew if I took a photograph, I would have to buy something, and I had no paper money. So this is the closest photograph of the market to be had...
Water play area for children... I also kept my distance here as not to seem like a creep.
Plenty of chairs for sunning, but you cannot swim on this part of the beach -
Look at that natural yellow paint marking each rise! Oh, safety...
Dragon's Lookout Point
Perhaps the coolest part of the island is Dragon's Lookout Point which has preserved natural rock formations and provides great views of the island, as well as back towards the ship.
The waves crash into the water here and create some pretty epic splashes.
Perhaps with the gimmick of the zipline and aqua park, this area seems to be overlooked. It was hardly crowded at all and is a wonderful location for tourist-free photos.
The spread-eagle position is quite popular among zipliners. Maybe the harness pulls people's legs outwards...
Barefoot Beach Club
I was not special enough to enter this gated beach area reserved for suite guests (grand suite and larger). The two gates were heavily monitored with security guards, too.
Behind the Barefoot Beach Club, there are some lovely-looking ruins.
Columbus Cove
Along the south side, swimming is allowed here.
There's also an aqua park (which, of course, is an additional fee for a designated time of use).
Adrenaline Beach
I made my way back to our spot on Adrenaline Beach and tried out Labadee's signature drink, the
Labadoozie
. Bleh. The bartenders walk around with the drinks pre-mixed and already in souvenir glasses, as well as a bottle of rum which they add to your drink when you purchase it (this way, they can also sell it virgin). Of course, this means that all of the rum is on top of your cup, and frozen drinks aren't the easiest to mix, so chances are that you're going to end up with a lot of rum at the end... if you make it that far. For me, I just didn't care for the taste. It reminded me of a Four Loco or a Strawberita... neither a taste which I associate with good decisions.
We like to spend as long as possible on private islands (one port where they really can't sail away without us). It's so relaxing when the beach empties out (and the herds of screaming zipliners slow down).
Enjoying the last day in paradise...
As far as private islands go, I will rank Labadee a steady Number 2... but that being said, I don't think they are even on a level to compete with
Disney's Castaway Cay
(which, in my opinion, is the best cruise line owned private island by far).
Bon Voyage!
We lingered for a while longer, then made our way back towards the ship. Legend of the Seas was already sailing away.
"I just can't help my selfie."
After returning to the ship, we were able to watch Legend of the Seas sail away. I've said this before, but I love watching ships sail away because everyone is waving at one another. Just think of how many people - strangers - are waving at once. It's not something you see as people depart on airplanes or in trains... but cruise ships, perhaps due to the Love Boat, just encourage people to wave, Bon Voyage!
Good-bye, Legend!
Romeo & Juliet Dining Room
For a starter, I had the
Royal Seafood Salad
. It was pretty good!
And
escargot
(available every night). Can't go bad here.
For an entree, the
Braised Beef Duo
. And that's where it went bad. Not a fan at all. It was really chewy and very fatty. Personally, I don't like to work too hard for my food.
But dessert was great with the
Grand Marnier Souffle
. This is not offered every night, so get it when it appears on the menu!
And the rest of the family had the
Baked Alaska
. Because for some reason, Neopolitan ice cream is a big deal on cruise ships, worthy of its own night. Don't fall for the gimmick of the torched meringue... get the souffle instead.
Then back in the room, we enjoyed some mini chocolate liquors that Mom had brought as a Christmas treat. (Don't get excited... they weren't part of our turn down service).
Yummy!
NEXT: [Day 8] At Sea