May 14, 2014 - Falmouth, Jamaica
This was the first time that the Disney Fantasy had ever visited Falmouth, Jamaica. The Disney Magic had visited before, and we were told that passengers had rated Falmouth 3rd place as overall cruise port. The Fantasy had been visiting Costa Maya, Mexico, which passengers had only ranked 10th.
Falmouth, Jamaica was a first for us, as well. I had been to Jamaica once before with my family, visiting Ocho Rios on Royal Caribbean's Mariner of the Seas in 2008, years before the port of Falmouth had opened.
Max has always wanted to visit Jamaica. In fact, I learned years ago that it was his number one place to visit because Jamaicans have dreads, and Jamaica just
sounds
awesome.
When we had visited Ocho Rios, Royal Caribbean instructed us not to take any cabs outside of the cruise port and encouraged us to take their excursions. This was a warning that we remembered when going to Falmouth and assumed it to be the same (note: we received no warnings on the Disney Fantasy about crime in Falmouth, so I think I assumed wrong). Therefore, this was the one day that we actually booked an excursion in advance. We selected Chukka Beach Express for $32 per person which included transportation to and from a nearby beach, as well as beach chairs.
Chukka Beach Express
The downside to booking a beach excursion through Disney Cruise Line was that we had to get off the ship early in the morning and returned to the ship in the early afternoon, while on our own, we would leave the ship around 10 or 11 AM and return later in the afternoon.
We met at 8:45 AM in the Buena Vista Theater which is where first-run movies are shown throughout the cruise. This was actually the only time that we went in that theater. It seemed that Disney had given us an early meeting time so that everyone would be there on time. Because when it was our scheduled time to meet, there were 20 guests still missing! When our excursion was called to leave the ship (about 15 minutes after our scheduled meeting in the theater), there were still guests who hadn't checked in, yet. We ended up on the last bus to leave which ended up waiting for the late guests.
When our bus finally got moving, our bus driver took us through downtown Falmouth while our tour guide told us a bit of history. I think the bus driver might have been new on the job because there were a few times when our tour guide had to turn around and quickly tell him which way to go. After we went downtown, we ended up.... back at the cruise terminal. We had just taken a loop of the city. Then we went on towards the beach.
This was taken from the bridge that James Bond drives across in Dr. No (1962). Also, Usain Bolt is from Falmouth. His family still lives there. We were told that we would see Usain Bolt today, and if we didn't... it's because he's just too fast.
The actual name of the beach is not listed in the shore excursion description. It just says "nearby beach". The sign in front of the beach said "Good Hope Beach", however, we were at a private portion which was only for Chukka guests.
When we got off the bus, we received complimentary punch. I was disappointed to discover that this was not rum punch, but just normal punch. Yuck.
We learned that a bus would come to take guests back to the ship every hour, starting at 1 PM. So the excursion could actually be extended past the three hours listed on the description.
On both sides of the Chukka beach were huts with outside vendors. Guards stood at each side so that independent vendors could not sell on the Chukka beach. It was nice to not have to pretend that I was sleeping to avoid the people trying to sell souvenirs on the beach.
This beach has incredibly soft, fine sand. It's so fine that it is almost silt. I believe it is the softest sand that I've ever encountered. Max loved the sand so much that he filled his Red Stripe bottle full of it and brought it home.
At about noon, the bottom fell out of the sky. I pulled my towel over me for cover, and Rachel did the same. I didn't realize that Mom, Dad, and Max had sought cover in the trees. After several minutes, the water had completely soaked our towels, so Rachel and I figured that we might as well give in and decided to wait out the rain in the water.
The sky was completely dark, and it didn't appear that the sun would be coming out anytime soon, so we decided to take the first bus back to the ship.
Overall, the Chukka Beach Express excursion was very good. The beach was clean and private, and the chairs were nice and new. Not to mention, the sand is the softest ever. There were also foam floats available to rent.
Port of Falmouth
After returning to the ship, eating lunch, and changing into dry clothes, we decided to check out the Port of Falmouth and do some shopping. Rachel was looking for an Alex and Ani bracelet, and Max and Rachel both collect shot glasses.
We were in port with Royal Caribbean's Freedom of the Seas.
The shopping center is very well-developed. There are several jewelry stores (including, of course, Diamonds International), Del Sol, Cariloha, Shade Shack, Dufry Duty-Free, Jimmy Buffett's Margaritaville, and several other souvenir stores. There is also a covered market-type area for vendors to sell artwork, and several kiosks for hair braiding, henna tattoos, and beverages.
Jimmy Buffett's Margaritaville - Falmouth, Jamaica
We, of course, visited Margaritaville. It's a very large complex with a store, pool, outdoor eating area, restaurant, and several bars.
There is a pool with a swim-up bar.
And a hot tub inside of a giant Margarita glass.
I was on the ground taking a picture of everyone else inside of the Margarita glass when a kind stranger offered to take a photo of all of us. She and her friend then insisted that we jump. We were a little skeptical because we didn't want to fall inside the hot tub. However, I'm really glad that we did because the shot turned out hilarious...
Honestly, you could easily spend your entire port day at Margaritaville.
Max spent over $30 at the Margaritaville store and had earned a 20% off drinks coupon, so we decided to use it on Frozen Concoctions.
Sail Away Falmouth
I insisted that we watch the ship sail away from Falmouth. I was very excited because the Freedom of the Seas was in port, so I assumed that a horn battle would take place. We had participated in a fun horn battle with the Allure of the Seas while on
Royal Princess over Christmas
.
We were all set to go and honked, "When You Wish Upon a Star" to Freedom of the Seas. We waited. Waited. Waited. NO RESPONSE!!!! We were very disappointed that Freedom of the Seas did not honk back. I was then disappointed that the Disney Fantasy didn't taunt the Freedom by honking again.
Good-bye, lame Freedom! I will note that there were many Freedom of the Seas passengers on deck waving good-bye to us. I love waving good-bye to ships or people on land because there is something amazing and beautiful about hundreds or thousands of people waving all at once.
Pirates IN the Caribbean
Now, when telling Rachel what to pack, I had told her to bring a pirate costume. That was easy for her because she had been a pirate for Halloween before. I didn't have a pirate costume, and in all of my
pre-cruise craziness
with getting the
Fish Extender Gifts
ready and
designing our stateroom door
, I kind of forgot to come up with one. Luckily, Disney Cruise Line provided us with some bandannas to wear, but I really regretted not getting a pirate costume together.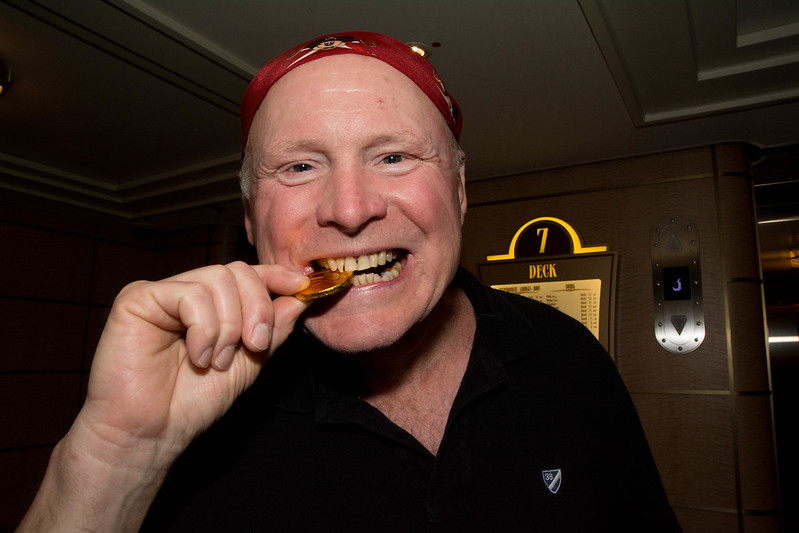 Before dinner, we went to the Pirates in the Caribbean show on deck with Captain Mickey and his Pirate Crew. By the time we arrived, the top deck was already packed, so we didn't have the best spot.
It's a cute show where Mickey teaches us how to be pirates, and then the ship gets taken over by Captain Hook and his villainous crew. This results in a pirate show-down where we prove that we are pirates.
It was quite windy up on deck. By the time the show was over, my hair was so wind-blown and tangled that it didn't seem to matter that I had fixed it.
It was so windy that they were only allowing double passengers on the Aqua Duck.
Dinner - Pirate Night in Royal Court
The napkins were folded like pirate ships!
And a we had a special pirate menu.
I had Black Beard's Jumbo Crab Cake as an appetizer. I'm not sure if I would use the word "jumbo" to describe it.
Mom ordered the Buckaneer's Sun-Ripened Pineapple. They really went all out with these names.
Max and Rachel had the Pirates Golden "Pot Stickers"... that's dumplings in non-pirate lingo.
I had the Jerk Chicken Salad. I found the chicken to be a bit dry for my tastes.
For an entree, I asked Tana if he would recommend the beef sirloin (excuse me... The Dutchman's Dijon Crusted Sirloin of Beef) or the mahi mahi. He suggested that I get both.
He brought Captain Hook's Macademia Nut Dusted Mahi Mahi on a smaller dish.
ARGHHH
Remember how my mother had asked Tana about Key Lime Pie? Well, tonight he brought us all Key Lime Pie!!! I was really impressed. I've never had a waiter go out of his way to get us our favorite dessert before.
This photo reminds me of
the time Mom and Dad scarfed down an ice cream sundae
...
Rum Soaked Chocolate Cake.... not as good as our Key Lime Pie.
Magical Porthole Stateroom - Pullman Bunk
We had been asking Mom and Dad all week to have their cabin steward pull down the bunk bed so that we could see it. I had heard that there were stars over the bed.
They got such a cute towel animal!
And I forgot to show you earlier -
I had decorated Mom and Dad's door for Mothers' Day.
Pirates IN the Caribbean Buccaneer Blast Fireworks
We were goofing off in Mom and Dad's room when we should have been reserving a spot on the deck for the fireworks. We were a bit too late to get a good spot on deck 12 overlooking the action, so we found a place in the standing zone on deck 11.
This show stars Jack Sparrow.
It was absolutely the worst Jack Sparrow acting I had ever seen. I think Jack Sparrow would have rather walked the plank than participated in that show. His voice and overall demeaner weren't that bad, but his deliver was terrible. His excitement was equivalent to that of a telephone operator. On top of that, the plot and dialogue were really bad and hard to follow. I would have to say that this was absolutely the worst show we had seen all week.
I had brought my tripod with me, but I didn't bother to set it up because I wasn't sure exactly where the fireworks were going to be, and I was in the center of the crowd, so my line of sight was limited. I slowed down the shutter a bit to capture the light as I hand-held my camera.
Immediately following the fireworks was a deck party.
Rachel's dance moves earned her a spot on the Funnel Vision several times. The camera loved her... and so did this lady...
She actually tried to set Rachel up with her son back home. She even brought her phone over so that she could show Rachel Facebook photos of her son.
Dad's response?
After Rachel had enough of the spotlight, we left the deck party to change into our swimsuits so that we could ride the Aqua Duck which was open until midnight that night (on all other nights, it was scheduled to close at 10 PM).
We had to walk through Cabanas to get to our room, which is when we discovered the buffet! A midnight buffet? I haven't run into one of these in years! We weren't at all hungry, but Max got nachos and Rachel got a turkey leg.
"These cost like... $16 at the parks! Heck yeah, I'm getting a turkey leg!"
By the time we changed into our swimsuits and had arrived back on the pool deck, the party had abandoned.... because it was raining! They were still running the Aqua Duck, though, and there was no wait, so we took advantage of the opportunity. It was really fun at night, and the water actually felt really warm compared to the cold rain.
Next:
Day 6 - At Sea